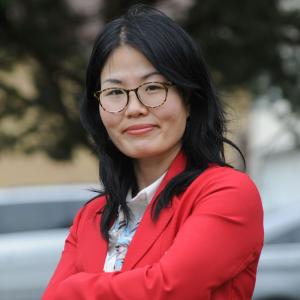 Sook Chang
Artist member since 2018
Toronto, Ontario
Sook Chang's painting journey started as a PleinAir artist, with oil as her major medium. As her journey unfolded, it has become more philosophic. She has been exploring various media and ways of expression, ranging from representative works to abstract paintings. However, her inspiration always goes back to her love of nature and people.
---
Which piece of art you've created is your favourite, and why?
My answer would be always my most recent piece that I am currently working on because I live in the present, doing my best, wishing to be better in the future. My most recent series "Seng-Sa-De-Sa (matter of life and death)" aims to connect art to science, philosophy, and human history.
Why is art important to you?
Art is my language to express myself and to communicate with others. Through art, I breathe and exist.
Why is it important for people to have art in their home or life?
People can benefit a lot by having real art pieces at home because art can be a great way for people to express themselves indirectly and directly, and a way to get needed rest and healing.
What do you listen to when you work?
Currently, I listen to Bueno Vista Social Club throughout the day and every day (I think I am an O.C.D.) I have been listening to this album since I started to paint "Seng-Sa-De-Sa". I automatically think I have to paint once those songs are on.
When did you start making art, and why?
I started painting many years ago to express who I am. I forgot who "I' was for a long while and started making art as I became more aware of myself and the world.
What kind of artwork do you have in your home?
Various kinds of art pieces, such as drawings, representative paintings, abstracts and sculptures.